The "Z"
1977 280Z with a 350 cu.in. Small Block Chevy and Camaro T5 5-speed.
The "Z" started out pretty rough - rusted quarters, rockers, 180K miles, and very, very tired.
Over 3 years I lovingly brought her back to life. The body received wheel arches and rockers, and the frame members were cut open and re-boxed with tubing and some holes in the floor were attended to.
The front fenders and valance are 'glass, the front bumper is a retro-fit 240, and at the rear are custom nerfs. A Sharp style front "spook" and rear BRE 3-piece finish it off. The color is Datsun Persimmon Red. The "spook" hangs down pretty good, and has needed repair at least 4 times since the car hit the road, mostly due to uneven driveway aprons. Am I ever glad I decided on a solid color - make repainting the repairs much easier!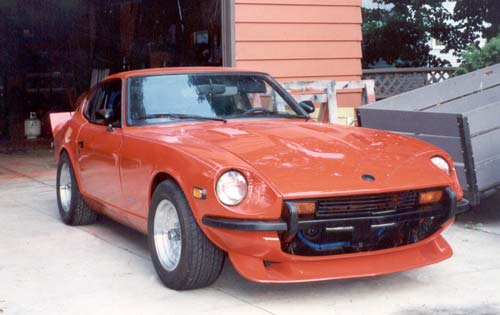 The chassis received gas-strut cartridges, progressive wound springs ( lowered by approx. 1-1/12"), urethane bushings throughout, and a T/C kit. I did a bump-steer mod to the front-cross member, moving the pivot holes for the lower control arms up .75 and out .25". The strut mounting holes were slotted and reinforced to allow enough camber adjustment. The roll-bar braces the rear towers, and I fabbed a front tower brace out of a piece of pre-plated tubing ( see last pic). The car handles like its on rails, and I hope to join some other OROC members this year for some fun at Nelson's or Mid-Ohio.....
Falken tires on ARE 14x7 Outlaw II rims. I just did a Toyota 4-piston caliper conversion last winter, and now wish I had done it sooner!!!! The exhaust consists of block-hugger headers into dual 2" to behind the trans., through a Flowmaster y-pipe, to 2-1/2" and out through a Supertrapp tuneable. The rear-end is still an R-180, but I've got an R-200 and mustache bar sitting on the shelf, prepped and ready to go in if my foot gets too heavy.... the nose is held down by the mount, AND about 3 feet of vinyl coated aircraft cable wound around several times and clamped.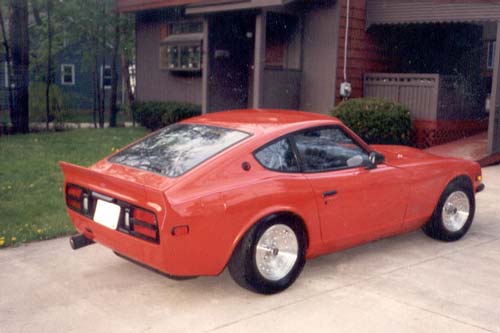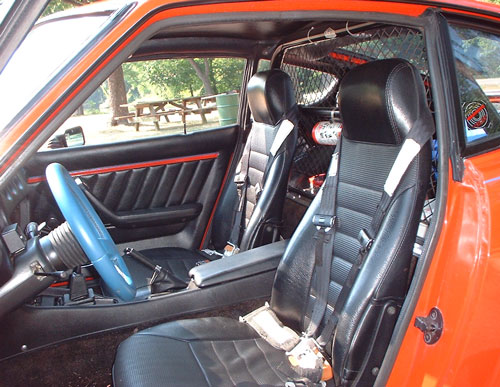 I was originally planning to build a road-race car for the street, following a purist route. I followed that path with everything but the drive train... a single flat top piston cost: "$80, and by the way, do you want rings for that, another $40".....a SBC started looking mighty attractive. First thing I did was to buy a Datsun V8 conversion manual from Mike Knell at Jags that Run - it became my bible - pages greasy and the binding split... Mike's approach was very well thought out, and proven in many conversion. The wiring section is worth the price of admission all by itself!
I departed from his methods / design only where I thought I had a better idea being an engineer myself, and given the fabricating and machining equipment I have at my disposal. The motor is set waaay back, with the HEI distributor about 1/2" from the firewall to get good weight distribution. The T5 tranny fits very well, with the shifter coming out the stock location. Hydraulic throw-out simplified the hook-up, but I did have to go to a larger 7/8" bore master for the clutch.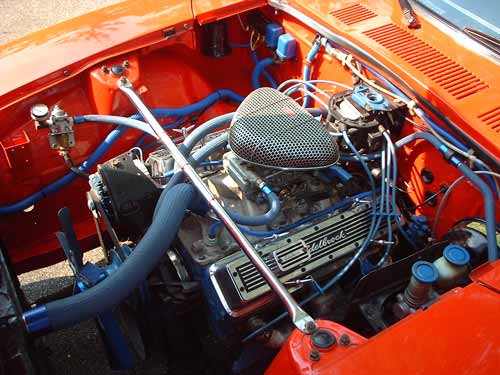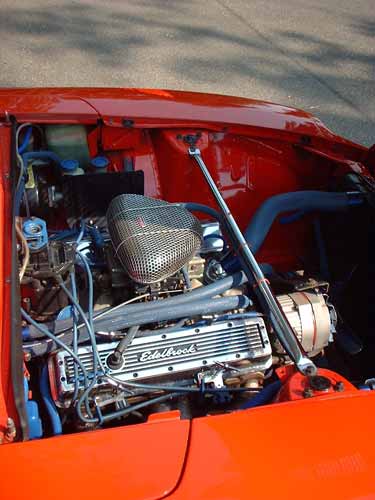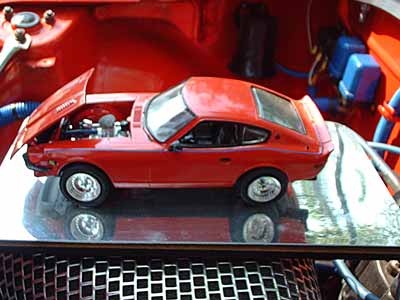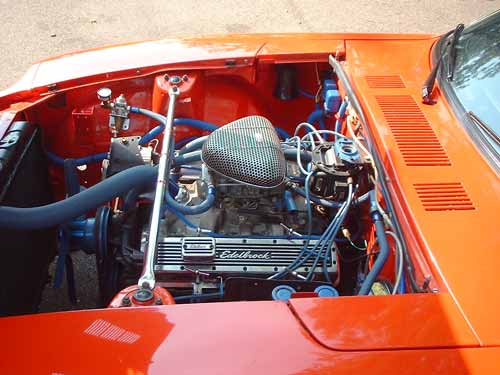 The engine shakes out like this - block is a 77 4-bolt main, the heads 461 double hump (2.02 intake, 1.94 exhaust), Edlebrock Performer manifold, Holley 650 vacuum secondary 4-barrel, HEI with a high volt coil and module, Blue Racer / Wolverine mild cam and lifters, stock pistons & rods, file to fit rings, high volume oil pump.
Had the block tanked, and cleaned up machine-wise, had the heads gone over with new guides and valves where needed, then reassembled the whole thing with the help of some drinking buddies.
Haven't physically dyno'd the motor, but with the components, compression etc., entered into Desktop-Dyno software, I get the graph below. And the car on a certified scale with a full tank of gas weighs 2720lbs.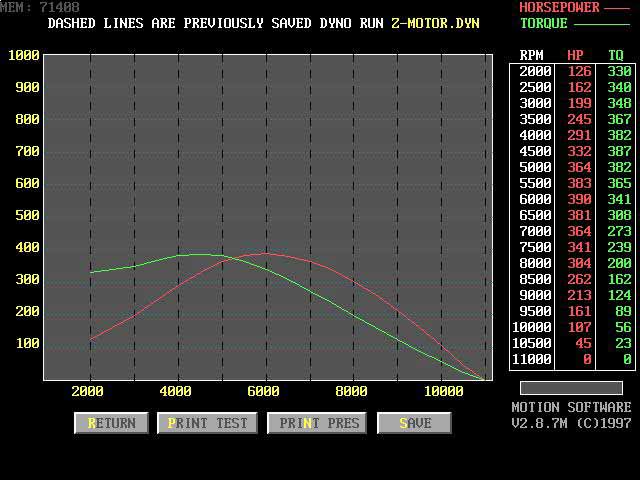 Balance is extremely neutral - most conversions end up very nose heavy, but with the battery re-located to the rear, and the roll-bar installed, it was actually a tad tail heavy. I had to have another set of rear springs wound locally to replace the one I bought with the matched set to compensate for the slightly heavier tail.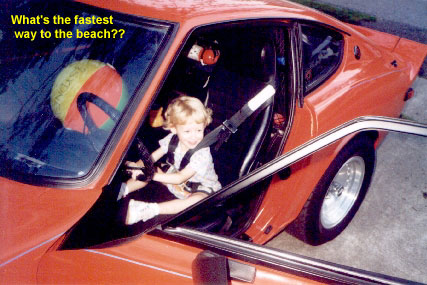 And or course, here's my "Ace" mechanic back when she was 3. She was the main impetus for acquiring the "R", every time she'd be out riding with me in the Z ( in a suitable Child Safety Seat of course), when she would see a ragtop she'd say "Dad, we need a convertible!" What would make more sense than a Chevy powered Roadster to keep it all in the family! She'll be the first one to tell you the "R" will be hers when she grows up.