A Long Hot Summer's Work...or, the Chassis is done.
After finishing the rebuild on the engine and trans this Spring, we started in on the chassis. In between camping trips, vacation, dealing with a flooded office, and all the other Summertime family activites, I stripped the frame of all its parts and had at it with a combination of wire wheels.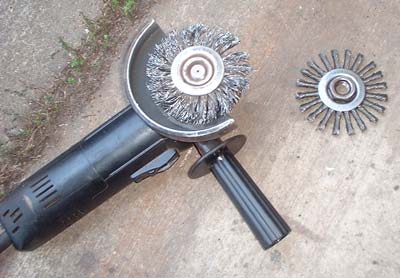 Degreased it, then I got my pit crew together for a painting session. Nothing fancy or expensive ( i.e. POR or urethanes) just good old fashioned Rustoleum rusty metal primer topped with two coats of satin black allowed to bake in the sun for a week or so. Much easier to clean from skin too..... I made the quickie cart out of 2x6 and some casters - became firewood later in the summer.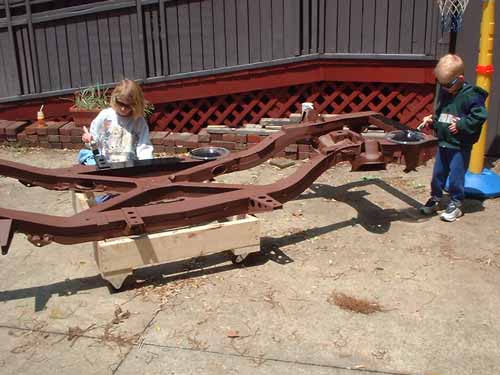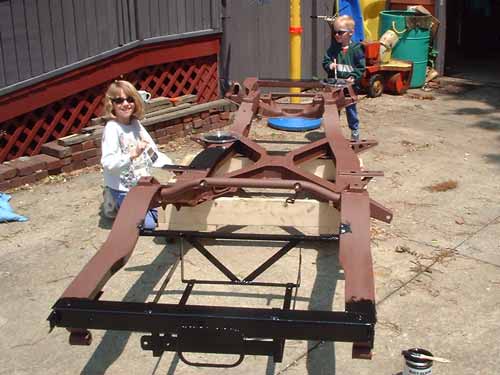 Then it was time to reassemble everything with new parts. Rebuilt the steering box, added Energy Suspension PU boots to all the tie-rods and ball-joints. Many thanks to Pete Long for providing a front center link when I found mine was fused with rust. Les at Classic Datsun Motorsports made me a deal I couldn't refuse on a package of comp springs, sway bar and PU bushings. Took Matt Silvey's advice on the KYB shocks
KYB Gas Adjust Part Numbers
KG5447 (rear)
KG4528 (front)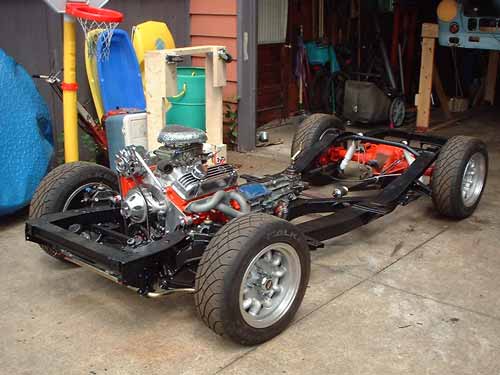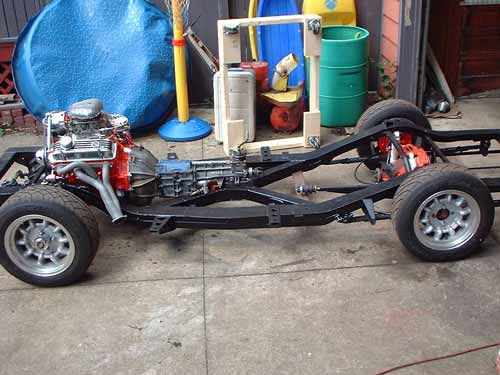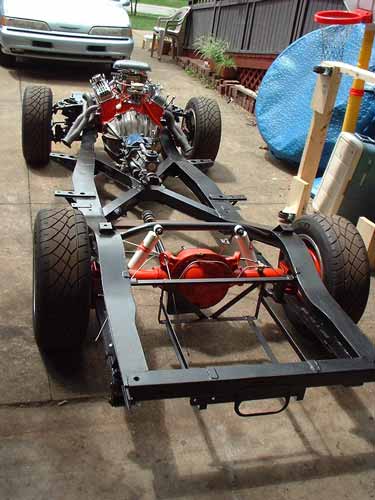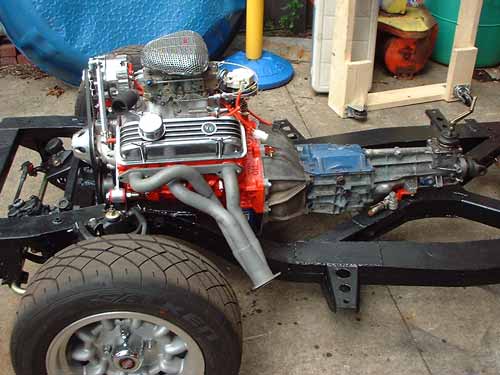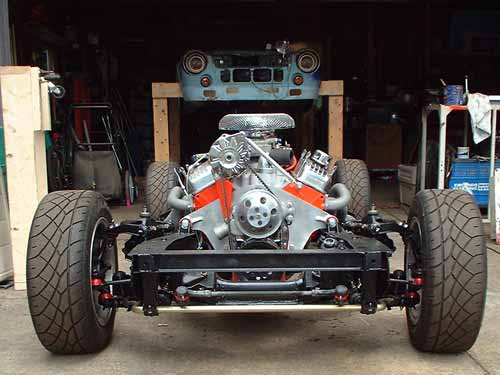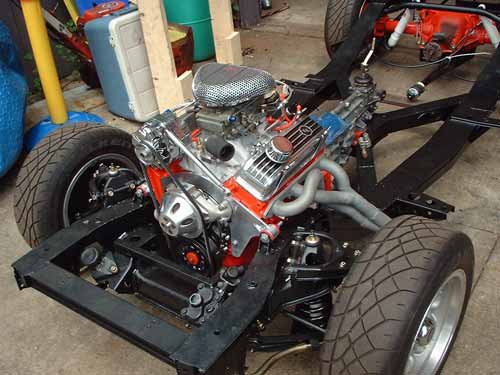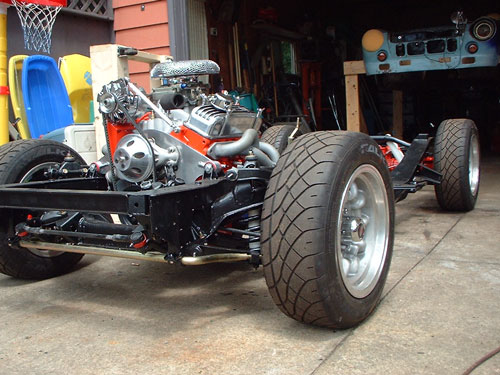 Close-up of the finished motor mount and alternator brackets.
I made up a wiring harness for the engine using an AMP Mate-n-Lok pin/socket connector from www.mouser.com - one plug, ground strap and battery cable to pull it later if needed. I'll be using more of these connectors to make up the wiring harness.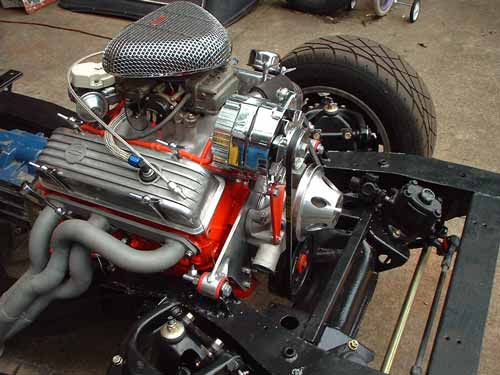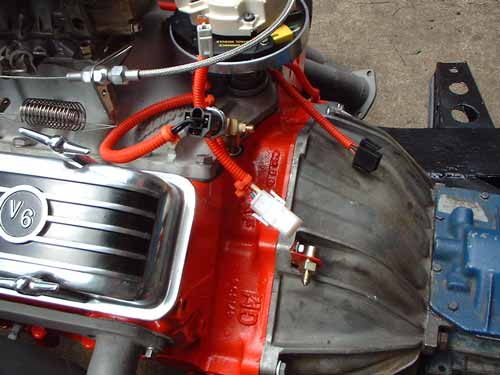 Some before and after pictures - a reminder of why its taken so long...... Remainder of axle will get painted after I design, construct, and weld on the track-locator. Yes, those are the stock SU's, manifold, and air cleaner on the shelf....make offer.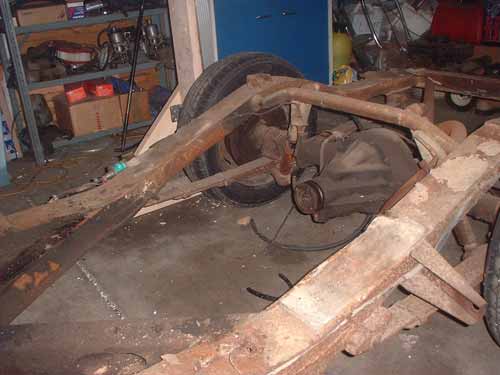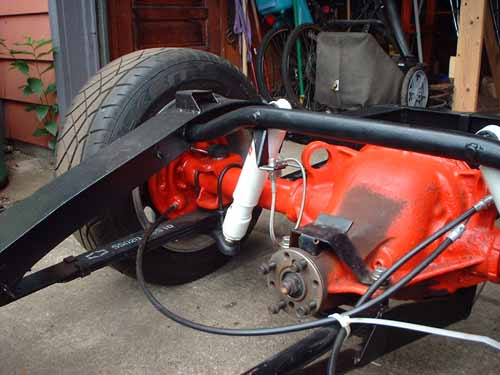 Had to redo the axle hard lines to avoid interference with the shocks.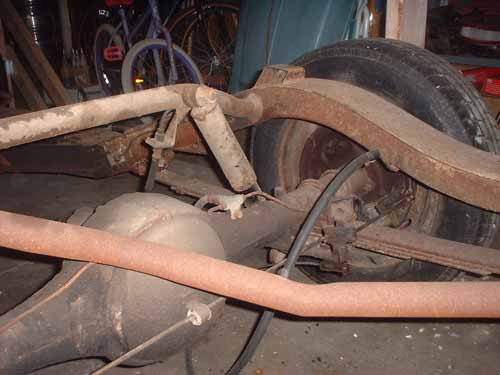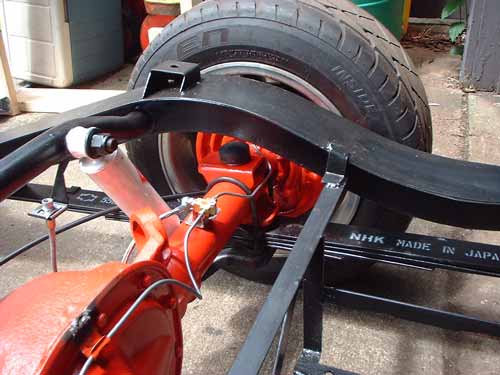 The new NISMO comp sway bar does not quite fit - called Les and he said this is what they are currently shipping and he has had problem too - its now made domestically, and evidently they did not calculate for "spring-back" on the right angle bends. Had to heat it to a dull red and bend it using a long pipe for leverage using the original as a pattern, then let cool slowly with no drafts to get it to fit right. It painted now instead of plated. Energy Suspension screw-post style bump stops - they have a number of different sizes/heights, so I'll be able to fine tune when its drivable. Used Pat's bolt pack for the front suspension. Luckily, after disassembling and cleaning , all the steering and suspension parts were found to be serviceable.