Motor Mount Construction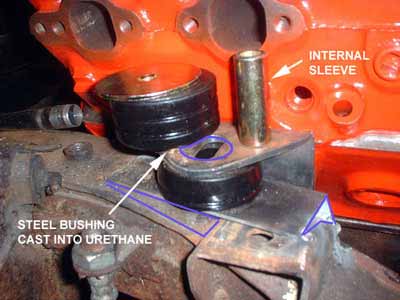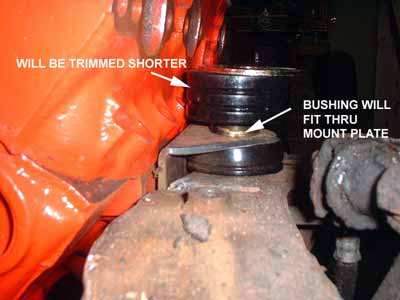 Construction of the mounts began with test-fitting the block / bellhousing / trans in the engine compartment, bracing it with pieces of wood until the correct position was determined. Correct position was as far back as possible without distributor contact on the firewall in the hood latch area, that hood would close with intake and carb in place, and that T-5 shifter would be in or near the stock location. Once this was determined, I drew up a pair of mounting flanges to bolt to the block. These are 3/16" thick mild steel. I roughed out the blanks, and had a shop press brake a 45 and a 90deg. bend in each.
I removed the original mounts ( which had been partially cut away by the PO), and ground the rails smooth.
A flat plate was located as a pad for the lower biscuit, and is currently spot-tacked in place. It will be fully welded and gusseted once final, exact engine position is determined. Internally threaded inserts will fit through top plate and frame rail, being welded first to the frame, plate put in place, then welded again so the inserts will be supported top and bottom. When they are done, I'll add some photos of the finished frame pads.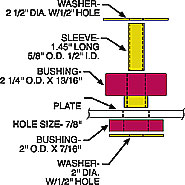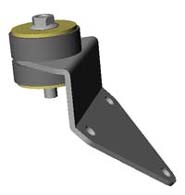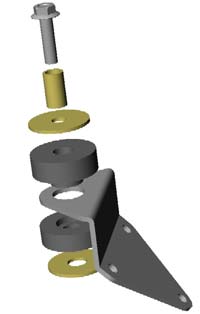 Then I went in search of some isolator biscuits. Found a universal mount from Energy Suspension which included two pair of urethane, shore 95A, biscuits, sleeves, and large washers. Current slots in the flanges will be enlarged to a hole to fit bushing cast into upper biscuit. After final fitting I determined the two bushings should be swapped, with the thicker one on the bottom.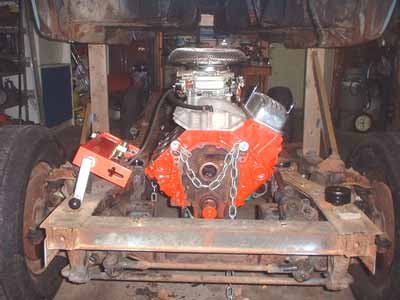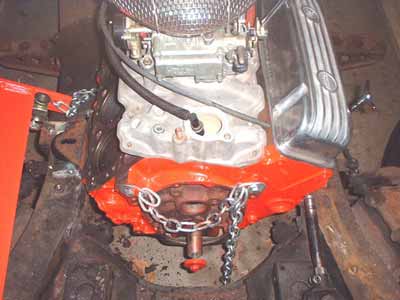 Motor is positioned low and back in frame.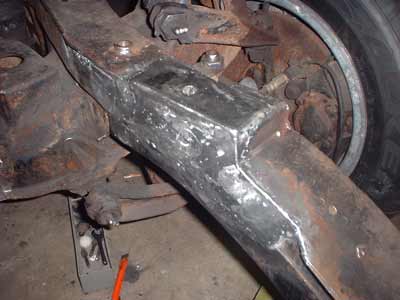 Here are the completed mounting pads, boxed and gusseted. Instead of threaded inserts, the hole is is formed by a .080 wall 1/2" ID tube that extends all the way through the frame rail and is welded at three points - bottom of the frame, top of the frame, and at the top plate that was added. 7" long, grade 8 bolts finish it off..... figured this would be stronger than the inserts I originally planned on.