Two Bits .... or the other quarter drops
On the passenger side, stripping the quarter panel some time ago reveale some serious distortion of the panel from an amateur attempt to repair collision damage. The car had evidently hit one of those steel ribbon guard rails - the kind that has a rounded "W'" shape or two ridges running length wise - there were two creases in evidence along with about 30-40 holes from a slide hammer. The panel was all stretched and oil canned and during stripping I removed about 1/2" of bondo. You can make out the ripples behind the arch in the pic below - whole panel was like this below the belt line.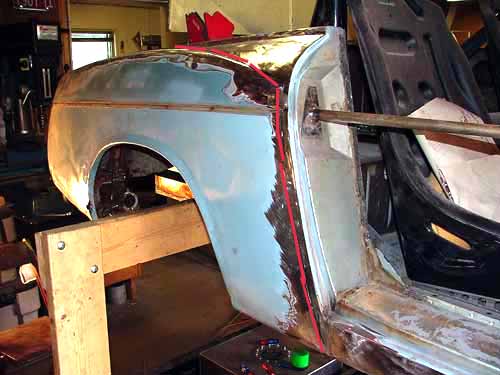 I decided the best course of action was to find a replacement panel, and so I got a quarter of a car from Craig Halsted, who was kind enough to bring it along to the Hershey show and deliver it to my dad's hotel ( hard to ship 1/4 car....)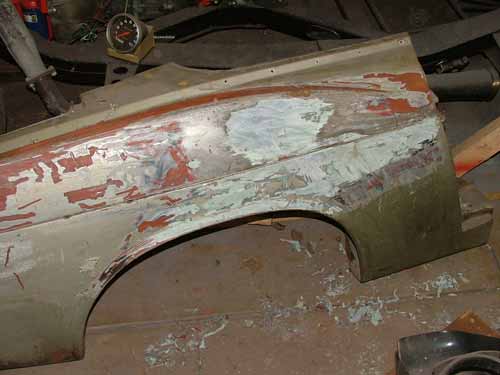 Stripping it revealed some damage as well, but nowhere near as bad as what was on my car. This one was probably hit in the door, as the rocker was deformed and there is a dent just a t the front of the wheel arch. The metal was torn right where the quarter joins the door opening, which led to rust inside the panel, so I had to put in a patch - still a lot less work than trying to straighten the stretched mess
.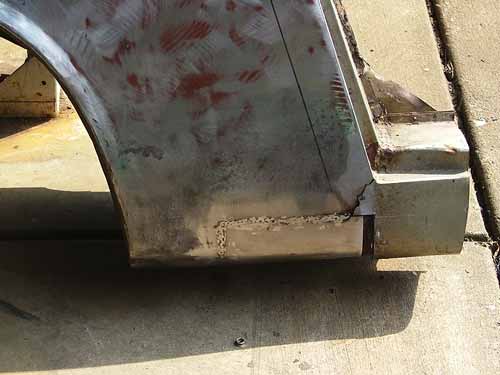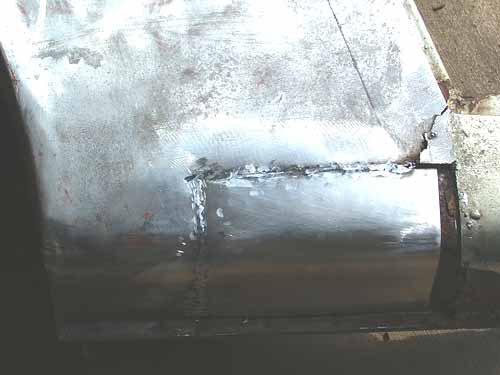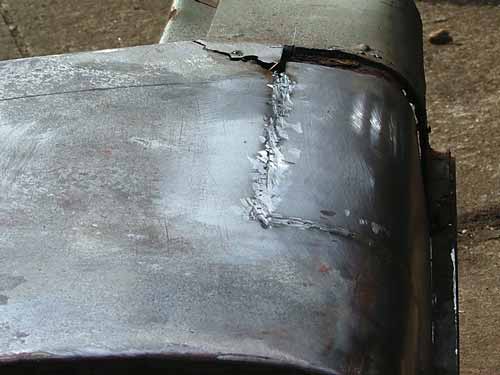 I marked the tub, and the replacement to make sure they matched, then sliced the donor open
.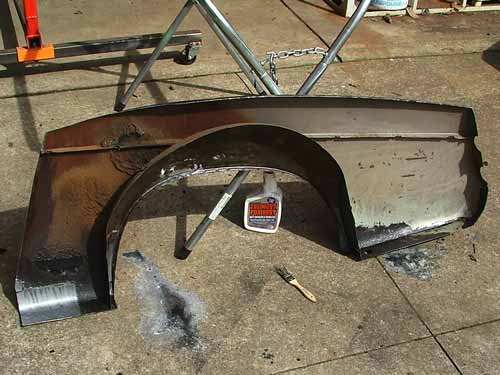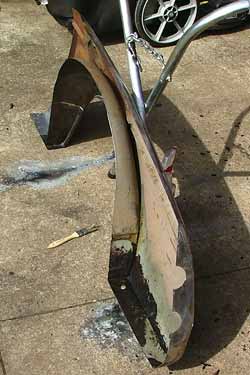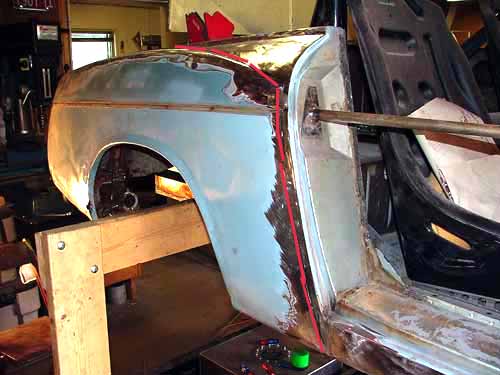 I used these welding clamps to hold the quarter as I was slicing, to keep it from moving around and deforming the metal that would stay with the car.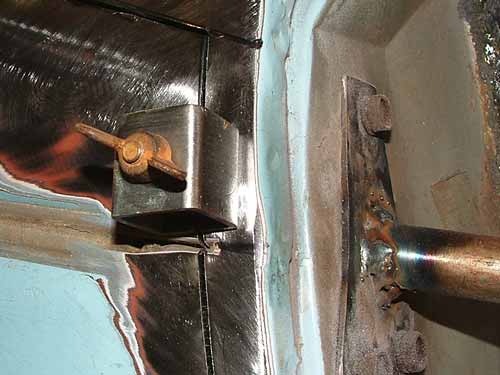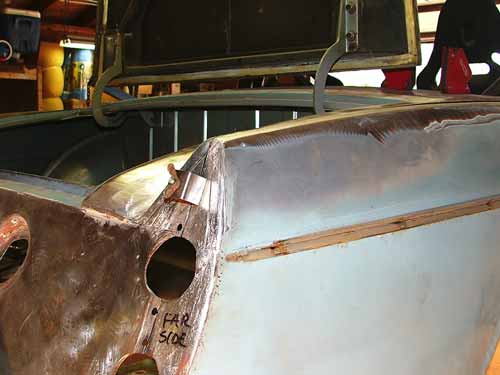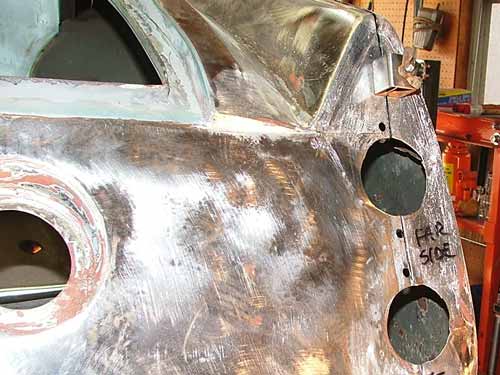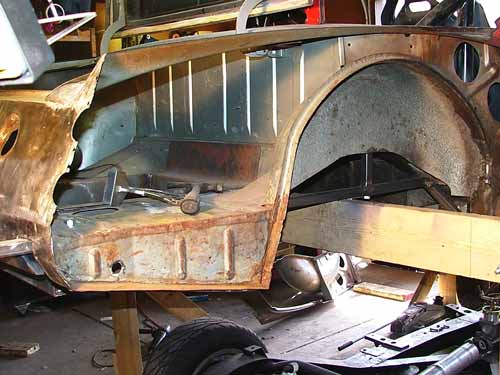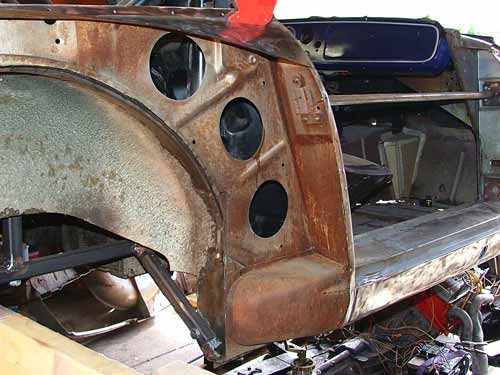 With the old removed, the replacement was fitted and held with the same clamps. I wanted to attach the replacement in the stock location first, welding it in along the vertical edged parallel to the door, prior to widening it.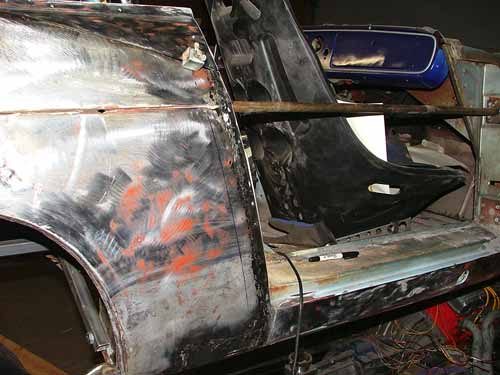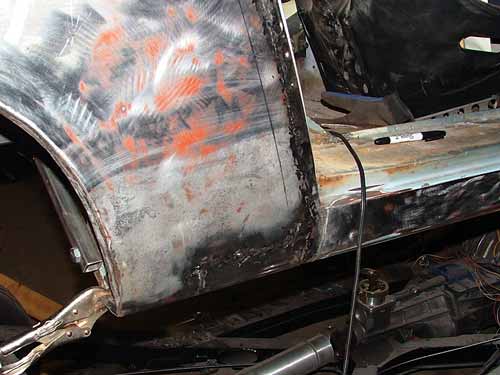 The front edge was welded in, the the panel slit, bowed, and tacked. The remainder is the same as the other side, so I'll spare you the details......